Ngoc Anh Hoang, Program Associate of the Ida C. & Morris Falk Foundation
#CircularHero #MeetOurGrantee
Needless to say, we have a plastic waste problem. Yet, plastics are an indispensable part of economic growth and vital to a low-carbon and resilient future. For instance, plastics deliver many public health benefits, from securing clean drinking water and food supplies to facilitating medical devices, while helping people with disabilities live more independent lives. If we were to get rid of these materials, disruptive changes would take place.
While reducing and reusing are the key to a sustainable plastics future, "there is little debate about the need for more innovation for better alternatives". In 2019, bioplastics led the World Economic Forum's ranking of top breakthrough technologies as "biodegradable plastics can ease these problems, contributing to the goal of a circular plastic economy in which plastics derive from and are converted back to biomass."
Bioplastics offer us an alternative and an opportunity to rethink our relationship with plastic. And now is an opportune moment to act and do better.
As a philanthropic organization, the Ida C. Morris Falk Foundation is working through a cross-sectoral lens to fund, facilitate and foster circular thinking and upstream innovation in Vietnam and its region. This year, we are honored to collaborate with Bach Khoa Innovation to support innovative Vietnamese students in the development of local bioplastic initiatives.
In this blog post, we are interviewing Edifilm, one of our grantees from Bach Khoa Innovation as our "Circular Hero". By showcasing both the upside potential and the challenges faced by our grantee, we hope that other like-minded partners would join us in assisting circular grassroots initiatives in their growth and development.
Let the journey begin…
"Why do we have to use so many plastic wraps for just one packet of pho?"
Triggered by the number of plastic wraps needed for instant food and how they are all thrown away in just a blink, a group of students decided to confront this situation by teaming up at Bach Khoa Innovation, a local innovation competition to ideate and develop a new plastic that is more sustainable and convenient for food-related applications. That is how the Edifilm journey started.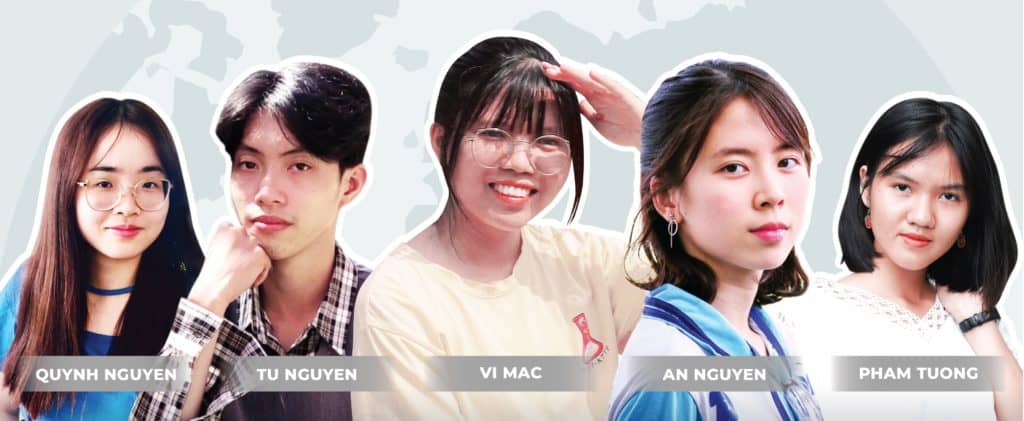 Edifilm is a group of five students from the Ho Chi Minh University of Technology, namely Vi Mac, An Nguyen, Quynh Nguyen, Tuong Pham, and Tu Nguyen. With a background in Food Technology, these young innovators have found a way to reduce packaging waste in our daily use with "Edible Films" – the packaging that is edible, as the name itself says.
When an innovative idea is supported by collaborative efforts
"At first, we did not expect to go any further than the second round. Now, we are one of the finalists."
Bach Khoa Innovation 2021 has been a fruitful learning journey for the Edifilm team where they received a lot of technical advice and training from professors and other experts to continuously test and improve the prototypes. For our part, ICM was lucky enough to get involved and help power this youth-led project. "With the funding provided by ICM, the team was able to buy more materials to upscale the number of prototypes needed for a market survey. Thanks to which, we discovered that our edible films can have so much more applications other than just wrapping for instant noodles!".
The collaboration between Bach Khoa Innovation and ICM, as well as the collective support from Vietnamese consumers, have combined the forces that enable the Edifilm team to catch a glimpse of how their project might actually catalyze a difference. Yet, while the team is ready and eager to showcase their prototypes, the finale has unfortunately been put on hold for more than 3 months due to pandemic lockdowns. "We thought that our project would be suspended as well. But thanks to ICM's connection and encouragement, we have taken part in the C-Plastic Incubation Program, where we are further exploring the market's demand and unlocking the potentials of our edible bioplastic products to become a social start-up, the direction that we have never thought of."
Edible films: A bio-based and bio-degradable solution to conventional plastics packaging
"Edible film" is made from a starch-based plastic that is both bio-degradable and consumable as all of its ingredients are harmless to our health, as well as the environment. The initial application of this material is for the inner wrapping of instant noodles, allowing consumers to digest both the packaging and the content at once.

Bridging the innovation gap for Vietnam to localize the global aspiration of a circular economy
In the world, this novel packaging technique has been well researched and applied in multiple fields. Yet, it remains a new concept in Vietnam to date. The opportunity to explore the environmental and economic potential of edible films and coating in Vietnam is enormous. By developing this starch-based edible film, five young innovators Vi, An, Quynh, Tuong and Tu have unleashed local-centric opportunities for a more circular Vietnam.
"We want to bring this product to every kitchen for everyday use." The Edifilm team now shares confidently when speaking about the long-term vision for their products. With high hopes, ICM is excited to continuously support the team on their innovative journey towards sustainability and circularity.
Localizing a global aspiration should never be an individual effort. Indeed, it requires collaborative innovation and collective support. So, how can we all nurture the upstream innovation ecosystem in Vietnam for a circular transition?
Edifilm's messages…
…. to stakeholders who want to support the circularity ecosystem in Vietnam
"The truth is, Vietnamese youth has recently become much more proactive when it comes to building green, community-based projects for sustainable development. We are actively taking part in creativity and innovation competitions on different scales, from mega-regional to international levels. However, a lot of the time, potential projects have to stop right after the ideating phase as students usually lack the technical and entrepreneurial skills as well as the required resources to develop further. We hope that funding and mentoring opportunities would be more available and focusing more on building appropriate programs, which will help create an enabling environment to channel potential ideas into real-world impacts for society and ecosystems."
….to all the innovative youth who wants to take action for a sustainable future
"It requires small changes to make a big difference. Even though what we are doing right now might not amount to a big impact, it is gradually contributing to shaping the radical change that encompasses sustainability for our future. So act now, and do not let the "what-ifs" limit your impacts."
——————————————–
About the ICM Falk Foundation
The Ida C. & Morris Falk Foundation is a private, 501c3 family foundation that seeks to support innovation, entrepreneurship, and leadership that drives positive, equitable, and sustained impact for the world's communities and ecosystems. Building on the global commitment to the Circular Economy, the Foundation is now actively focused on innovative solutions that contribute to the reduction of waste production and pollution within Asia.
About the Edifilm team
Edifilm is a group of 5 innovative students from the Ho Chi Minh University of Technology. With a background in Food Technology, these young innovators have teamed up at Bach Khoa Innovation to ideate and develop "Edible Films", a bioplastic solution to our packaging waste problem.