Ngoc Anh Hoang, Program Associate of the Ida C. & Morris Falk Foundation
#CircularHero #MeetOurGrantee
During the decades of acute hunger, cassava was among the key reserve crops that helped Vietnam escape famine. Since the first years of the 21st century, cassava has been emerging as a fully industrial crop, offering great potential both for domestic consumption and export. Now, cassava's importance remains as the third-largest crop in the country.
Growing up familiar with the presence of cassava in everyday life, a group of Vietnamese students has discovered the new potential for the use of cassava that can help Vietnam localize the global aspiration of the so-called New Plastics Economy.
This article is part of our "Circular Hero" content series where we showcase innovators and entrepreneurs that are driving forces for a circular economy transition. In this blog, we are interviewing The Blastic, one of our grantees from Bach Khoa Innovation. By providing a realistic picture of both the upside potential and the challenges faced by our grantee, we hope that other like-minded partners would join us in assisting circular grassroots initiatives in their growth and development.

Meet The Blastic team from Bach Khoa Innovation
In late 2020, The Blastic was formed to find an answer to the age-old, yet unresolved question: "How to deal with the growing plastic waste pandemic in Vietnam?"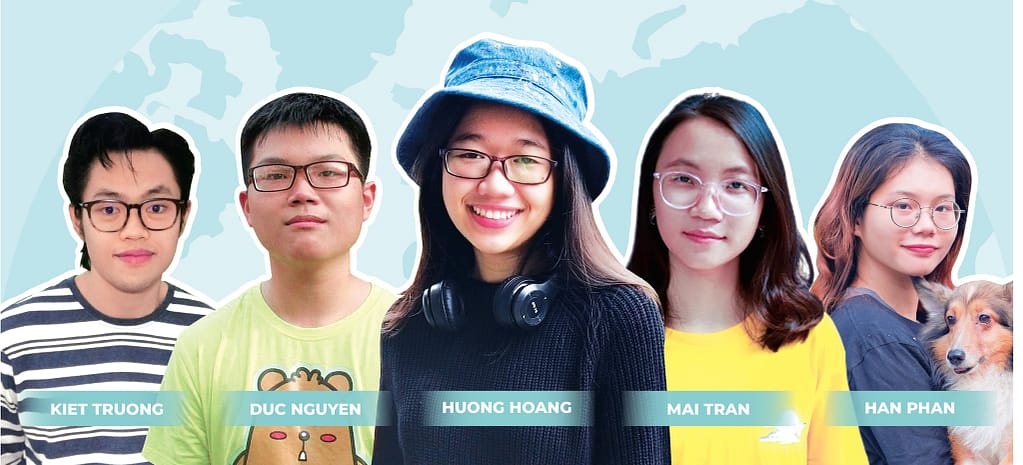 During their study in Food Technology at Bach Khoa University, five students, namely Huong, Mai, Han, Duc, and Kiet have recognized the great potential of "cassava starch" in developing a new material that helps Vietnam meet its demand for bioplastics in the transition towards sustainability and circularity. In early 2021, the engineering students decided to join the Bach Khoa Innovation to materialize that idea.
What product were you developing during Bach Khoa Innovation?
Our goal is to develop a biodegradable alternative that can replace conventional plastics. Despite its growing presence and importance in the global market, the production of bioplastics in Vietnam remains limited, due in part to technological and cost-related barriers. More importantly, most of the existing bioplastics in Vietnam still contain plastic beads to maintain mechanical properties, which means that they only partially degrade. These types of packaging make downstream efforts (eg., recycling) more challenging while leaving behind microplastics beads that damage the environment even more than conventional plastics.
By recognizing cassava as a national strength with regards to its affordability and availability, we aim to develop a more cost-effective solution based on a simple crafting method. Our product is fully bio-based and biodegradable. When decomposed, it safely returns nutrients to the soil, creating a closed cycle of materials that flourish with nature.
In short, our bioplastic is ensured to be completely degradable without producing plastic particles that might harm the environment.
What are some highlights of your journey at Bach Khoa Innovation?
During the competition, each member was in charge of a different role that eventually enabled the whole team to move towards the goals set. Despite having different responsibilities, we were all supportive of each other to overcome any obstacles. We took turns on duty, as well as doing sample testing in the lab. From one failed experiment to another, the team was working relentlessly and collaboratively to modify our formula and method to enhance the product's properties and keep building on its potential.
Then, the moment of joy and recognition came when we knew that we would be receiving funding from ICM to develop this project. We became more hopeful and confident in what we were doing, to firmly strive forward despite the many challenges ahead.
How did ICM's support help your project?
Affording chemicals and tools for sampling has always been a dilemma for students' projects like ours. Hence, the financial support from CM definitely helped us lift this burden and make the work much more feasible. Thanks to ICM's involvement, our team also became more accountable and invested in the project as we needed to report on progress regularly.
At first, we thought of entering Bach Khoa Innovation, just for the sake of it. But eventually, ICM changed our mindset. Bach Khoa Innovation is actually a stepping stone for us to move forward and inspire real, sustainable change to our real-world problems. We became more responsible and persistent in this project as we see the many potentials to grow above and beyond.
There were also times during the pandemic when we got stuck on progress, we were discouraged and wanted to give up. ICM gave us a lot of encouragement and useful advice. To us, ICM is not only a sponsor but also a companion, a member of our team. We really are lucky to be working with ICM.
What do you suggest other organizations do to support and nurture the innovation ecosystem for a sustainable future?
Grants for scientific research and green innovation are rare to find in Vietnam. We truly hope that through competitions like Bach Khoa Innovation, more funding opportunities would be accessible to students and innovative youth in general. Other than that, students like us typically lack the skills to seek the right grants and mentorship for growth potentials. We wish that universities would step up and equip their students with such skills so that more innovative ideas could be materialized.
What advice would you give to Vietnamese youth who wish to take action for an innovative, sustainable Vietnam?
Be perseverant, and you will get the result you deserve. Even if success finds you late, enjoy the process. Because the lessons gathered throughout the journey are invaluable.
——————————————–
About the ICM Falk Foundation
The Ida C. & Morris Falk Foundation is a private, 501c3 family foundation that seeks to support innovation, entrepreneurship, and leadership that drives positive, equitable, and sustained impact for the world's communities and ecosystems. Building on the global commitment to the Circular Economy, the Foundation is now actively focused on innovative solutions that contribute to the reduction of waste production and pollution within Asia.
About The Blastic team
The Blastic is a team of 5 innovative students from the Ho Chi Minh University of Technology. With a background in Food Technology, these young, resilient innovators have discovered a way to utilize cassava's availability to help Vietnam meet its demand for bioplastics in the transition towards sustainability and circularity.