Ngoc Anh Hoang, Program Associate of the Ida C. & Morris Falk Foundation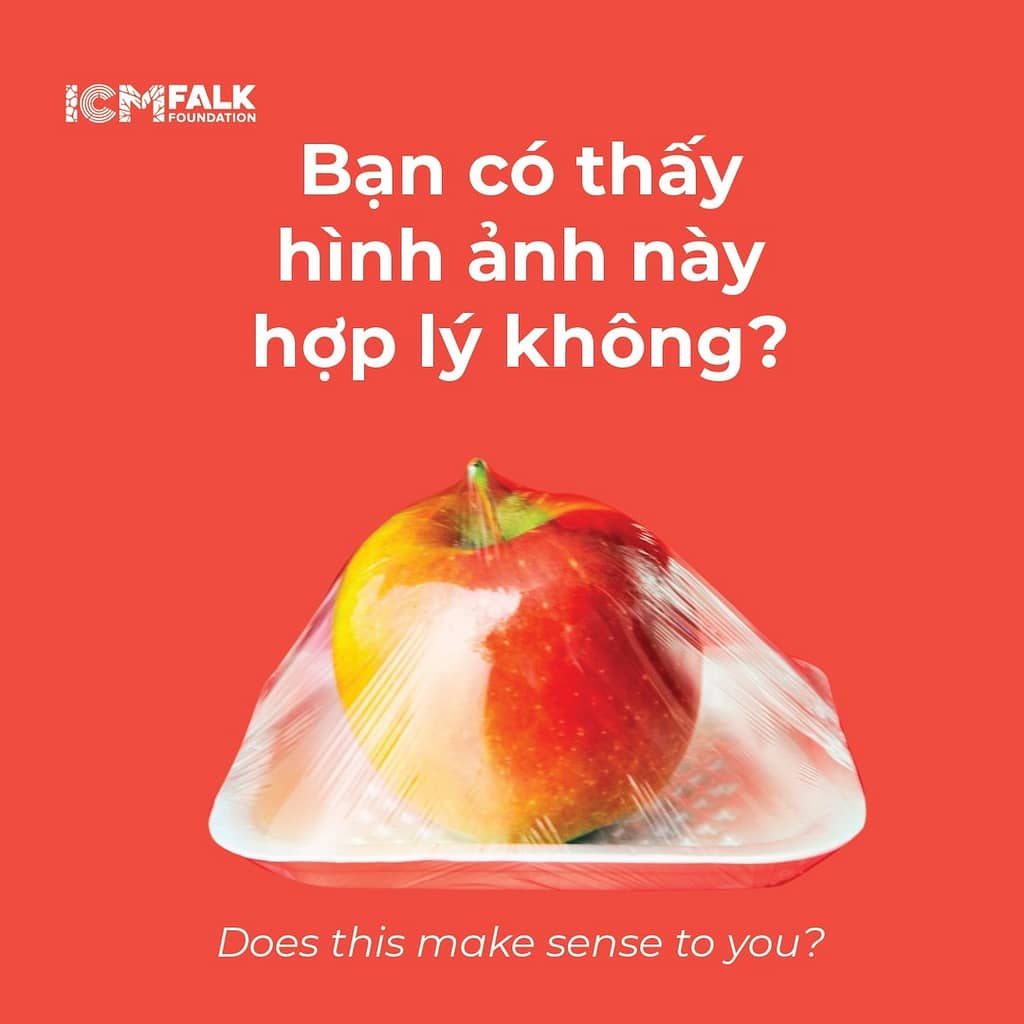 Plastic substitution has been rising as one of the most promising solutions to our plastics waste crisis. In Vietnam, it accounts for half of the circular solutions identified currently existing in the market. Yet most of these are still in their early stages and require continuous support to take shape and grow.
A momentum for new innovative ideas and collaborative support is necessary to gear Vietnam's plastic industry towards circularity. In our case, that momentum is starting with the local youth.
Through the Circular Innovation Grant program, the ICM Falk Foundation is proud to show our continued support for student-led circular solutions through the annual Bach Khoa Innovation competitions. In this article, we are interviewing the Beavers student team, one of our latest grant recipients for their bacteria cellulose-based alternative to single-use plastics made from nata de coco. Thanks to our grant, the Beavers team received interest from over a dozen Vietnamese and international companies in Hospitality, F&B, Packaging, Fashion, and Retail.
Read the interview to discover the potential of their product and get inspired by their innovation journey!
—-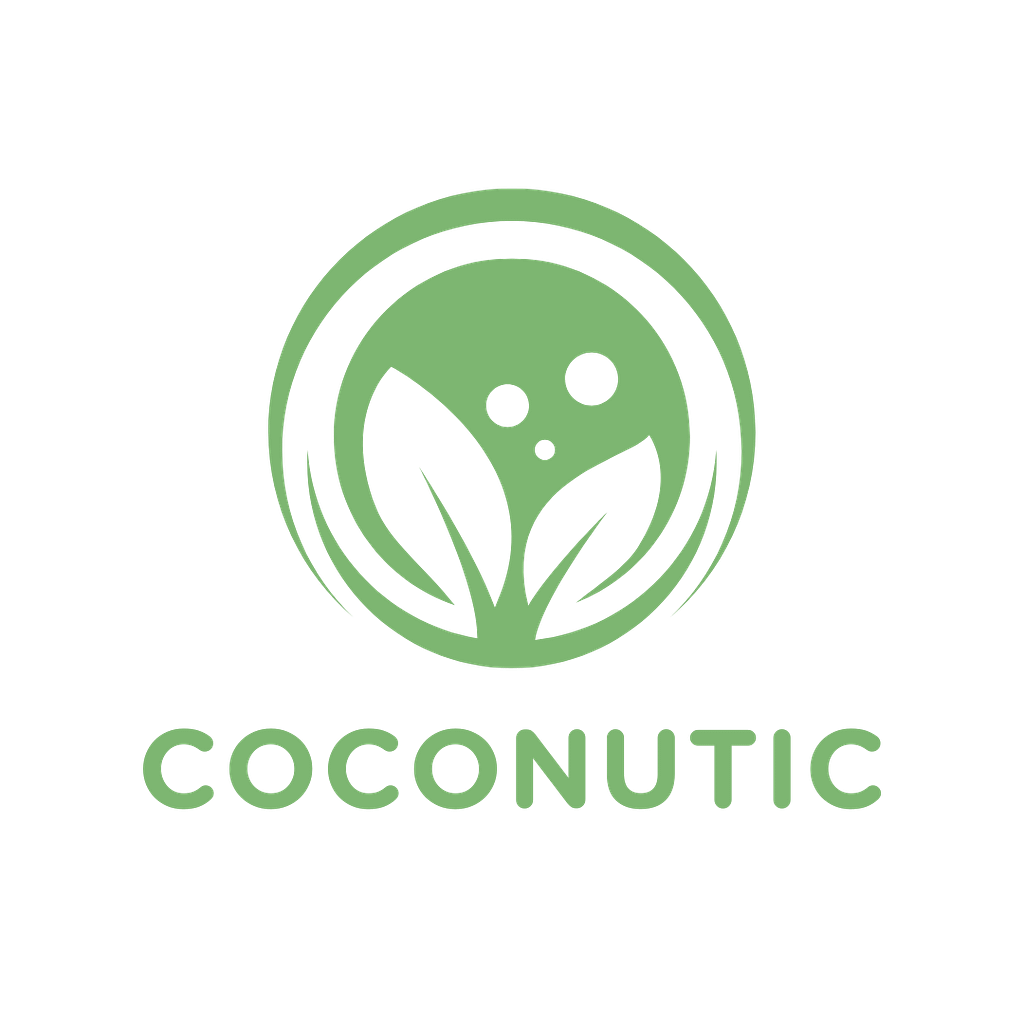 1. Please briefly introduce your team members and your project Coconutic
Our team includes 04 members– Nguyen Ngoc Lam, Pham Tuan Khang, Phan Minh Khoi and Hoang An. All of us are currently fourth-year students of Chemical Engineering at the University of Technology who shares a love for the environment and a passion for research. Thanks to the enthusiastic guidance of Prof. Nguyen Dinh Quan, we created a durable, non-toxic biomaterial with tensile strength and good heat resistance. for the environment.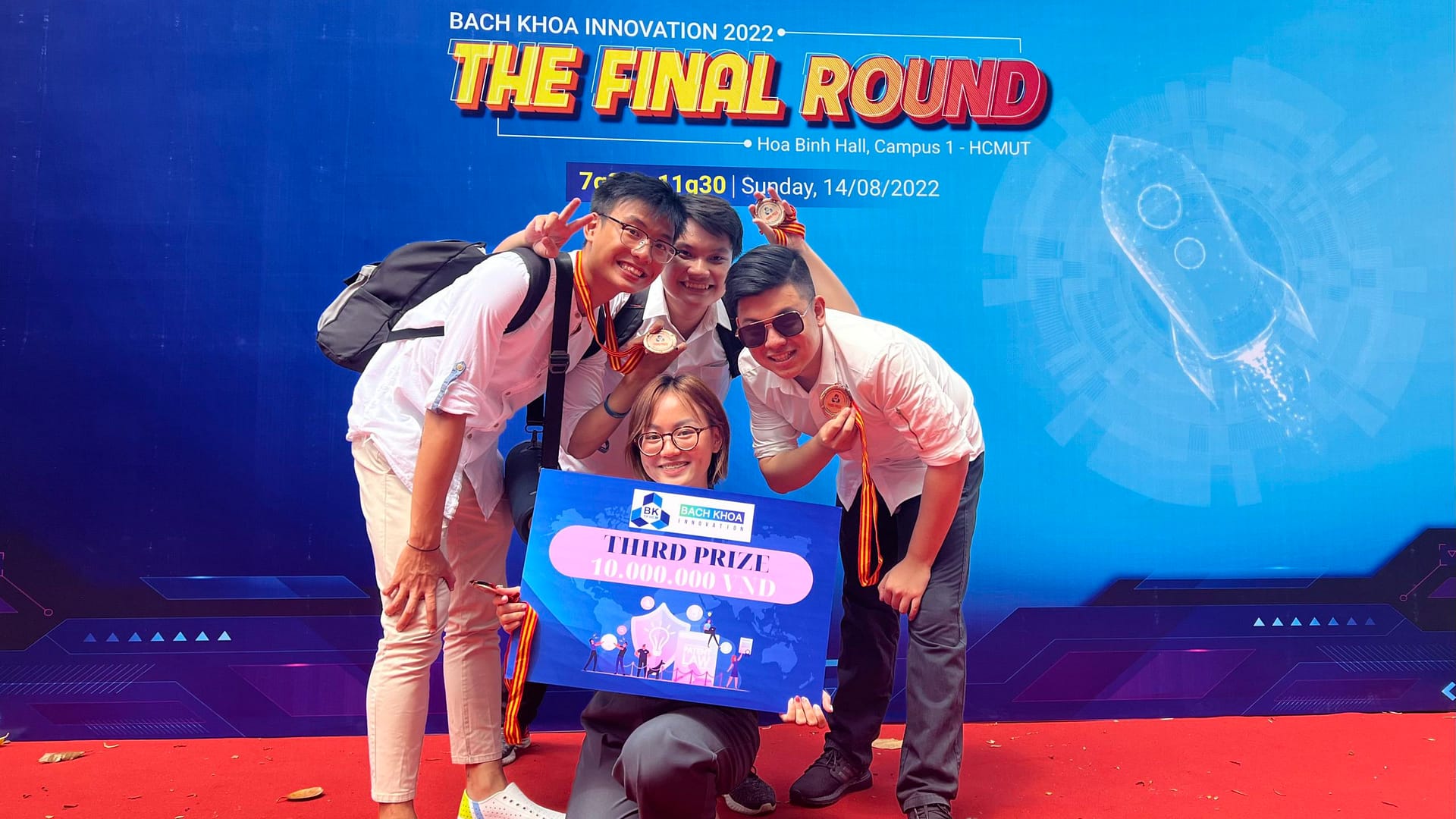 2. What prompted you all to start this project?
Nowadays, plastic & metal pollution have become buzzwords in the news. With a passion for chemistry, we tried to apply each student's understanding of the environment field to come up with a solution.
After learning about the potential of microbial cellulose-based material from our professor, we started using coconut jelly as the main raw material thanks to its natural purity and abundance in Vietnam.
3. How is your product different from what's on the market? (Why nata de coco?)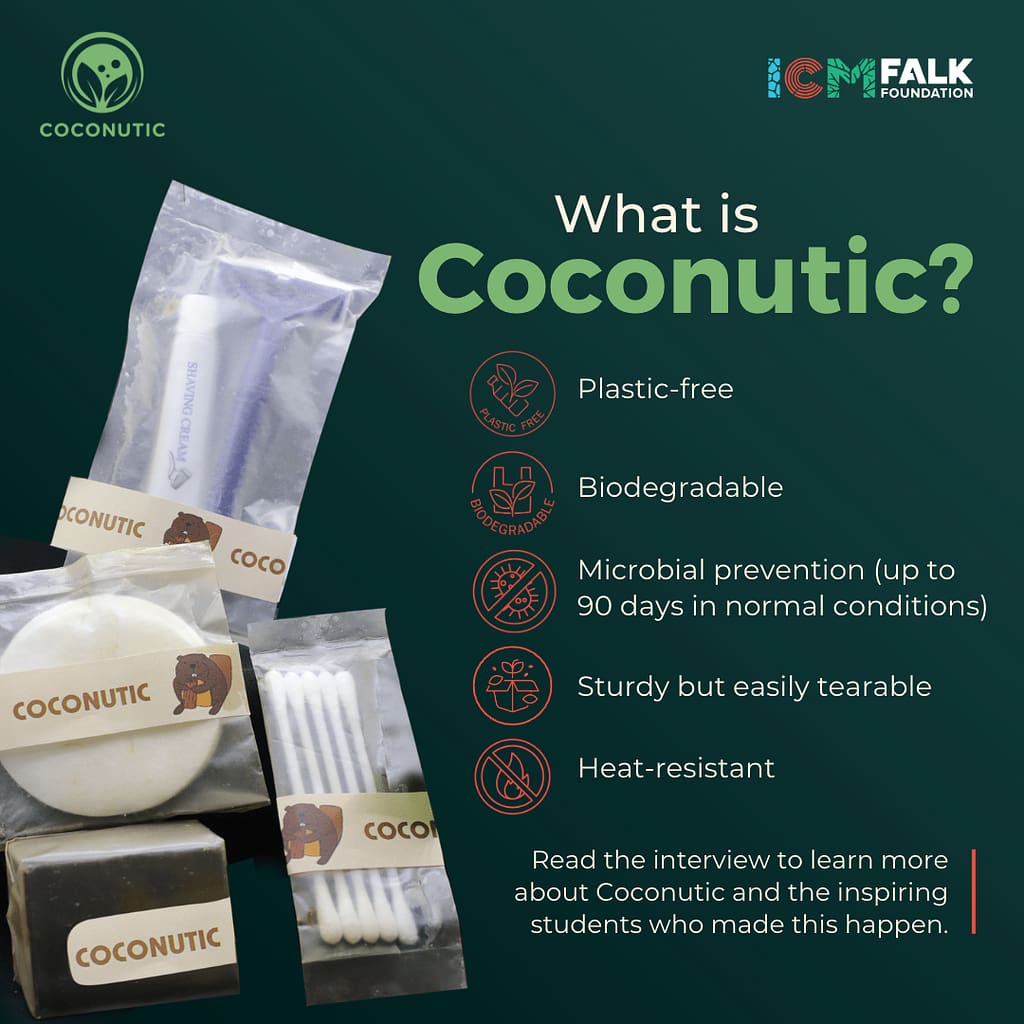 Coconutic is 100% bio-based, hence does not contain plastic. This is such an important step towards greening our packaging industry.
The product is made from agricultural biomass waste, namely coconut jelly. During processing, coconut jelly is discharged as waste into the environment, or used only as animal feed or fertilizer. With our innovation, this by-product can now participate in the circular economy model to help reduce waste and close the material circulation loop.
4. How have you grown from the grant program with ICM?
We could say it was a huge leap forward for the whole group. We've never participated in such programs before the BKI competition or the ICM's grant program. Now looking back, we have actually matured a lot since the early days of the project.
In terms of personal development, we find ourselves working and trying a lot harder to be at the same "frequency" as our mentors from the ICM Falk Foundation. We learned how to plan, manage expenses, set expectations logically, and then follow through with deadlines. This has helped us to become more responsible and disciplined with our project. Yet, more importantly, we learned to balance the time for both project development and our ongoing undergraduate program.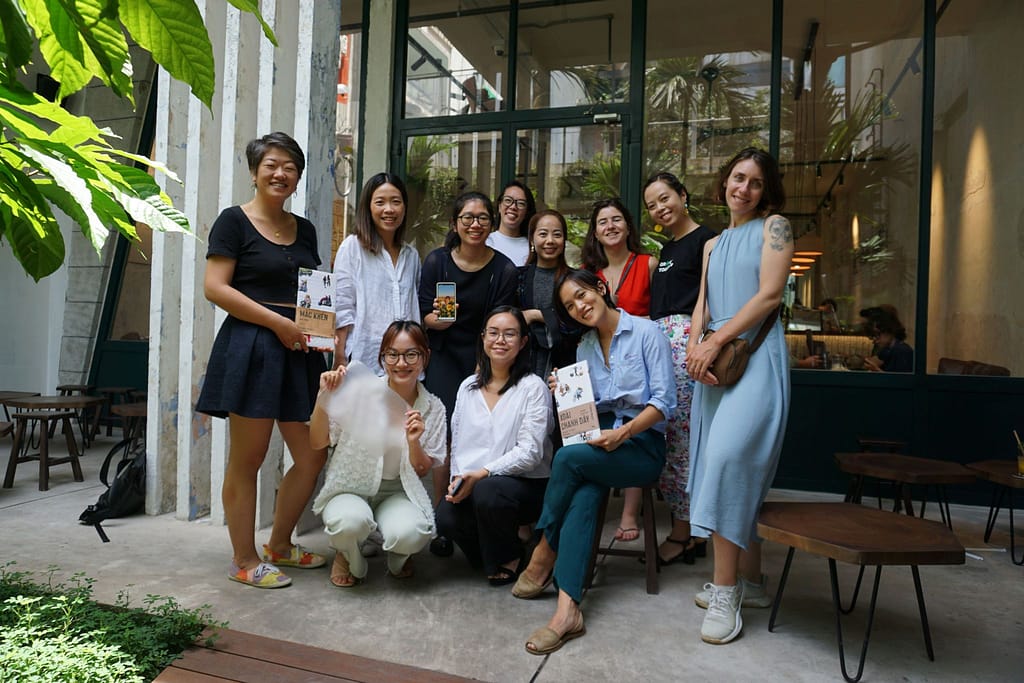 In terms of project development, we wouldn't have the capacity to move forward without the financial support and also motivation from ICM. We are turning our idea into reality for consumers while also uncovering a lot of new potential for our product Coconutic. We just hope to have more time to explore our full potential and see how far our project can go.
5. What major challenges did the team face when developing Coconutic as a group of students? From this experience, how do you hope the innovation ecosystem in Vietnam will change to support more student initiatives?
During the implementation of the project, we encountered a lot of difficulties, especially in improving the biomaterial to match consumers' tastes. To optimize its properties, we spent a lot of time researching and experimenting. Besides, in the early days of the project, the team had trouble figuring out the direction of how we should develop our product.
After having memorable experiences with the project as well as ICM, we hope that there will be more competitions as well as more units like ICM who are willing to support the ideas of the students to promote creativity, innovation as well as the entrepreneurial spirit of the youth.
6. What is your plan for Coconutic after the grant program with ICM and Bach Khoa Innovation?
We all have dense individual schedules so we face lots of difficulties to continue with the project ourselves. With the hope for Coconutic to be continually improved and materialized into a sane solution for our environment, the team decided to transfer the product formula to ICM Falk and its joint program with Evergreen Labs– the Pilot of a Materials Venture Lab. It's our firm belief that ICM's Venture Lab will help develop Coconutic to its full potential and eventually replace traditional plastic with large-scale and sustainable production.

—-
"Young people should be at the forefront of global change and innovation.
Empowered, they can be key agents for development and peace"– Kofi Annan
An uncertain future has created both pressure and motivation for the youth to be innovative and entrepreneurial to drive change. Now more than ever, youths in Vietnam and around the globe are showing great interest in solving social and environmental challenges.
However, they cannot and should not be left alone with that responsibility. Young leaders can initiate the change, yet all stakeholders must collaborate and stay involved for change to actually happen. Join us in the mission to support local circular solutions! Interested in collaborating for co-impact? Reach out to us today!
---
About the ICM Falk Foundation: The Ida C. & Morris (ICM) Falk Foundation wants to empower Vietnamese students and more particularly engineering students who have great innovative ideas to step up and reach out in order to be equipped with impact business knowledge and be able to adequately address the waste and pollution challenges in their home country.
Join us in our mission to support circular entrepreneurship and innovation for a sustainable future. Reach out to us at contact@icmfalkfoundation.org if you have a solution to tackle the waste problem in ASEAN!