Tạ Hương Thảo, Capacity Building Manager / Investor Network Development Manager at KisStartup & Tiphaine Pham, Strategic & Program Advisor at the ICM Falk Foundation
As part of the ongoing blog series on Youth circular entrepreneurship in Vietnam, the Ida C. & Morris Falk Foundation (ICM Falk) is proud to partner with KisImpact, a 2021 ICM Falk grant recipient, and KisStartup to bring you the last blog of the series – "How can circular innovation benefit youth entrepreneurship in Vietnam?".
State of play for youth entrepreneurship in Vietnam
There is an increasing interest among Vietnamese youngsters in running their own businesses. According to a survey carried out by the World Economic Forum in six countries in ASEAN in 2019, Vietnam ranked third in terms of entrepreneurial ambitions among young people. Young entrepreneurs also showed a higher rate of early-stage entrepreneurial activities than older ones (OECD, 2019).
In comparison with older counterparts, young entrepreneurs faced a lot of challenges in creating and operating their startups due to a lack of entrepreneurial skills, supporters including mentors, access to the market, and funding (Lim & Grant, 2014). These barriers are in line with findings from our survey of young innovators from technical universities in an upcoming case study by KisStartup – University-based Innovation for Technical Students. Surveyed innovators indicated that their projects could not move on to later stages because they lacked initial funding, human resources, and project orientation.
Recently, young entrepreneurs have also shown a greater interest in solving social and environmental issues as we witnessed a stark increase in the number of impact-focused competitions attracting thousands of young people such as SDG Challenge by UNDP, Social Business Creation by HEC Montreal, CiC, etc.
TakeC-Plastics Incubator 2021 run by KisStartup, KisImpact, Spring Activator in partnership with The Incubation Network and the Ida C. & Morris Falk Foundation as an example. The program focused on providing technical assistance, mentorship and business support for its circular innovator cohort. Nearly 90% of startups joining this program are effectively led by young entrepreneurs from various Vietnamese universities.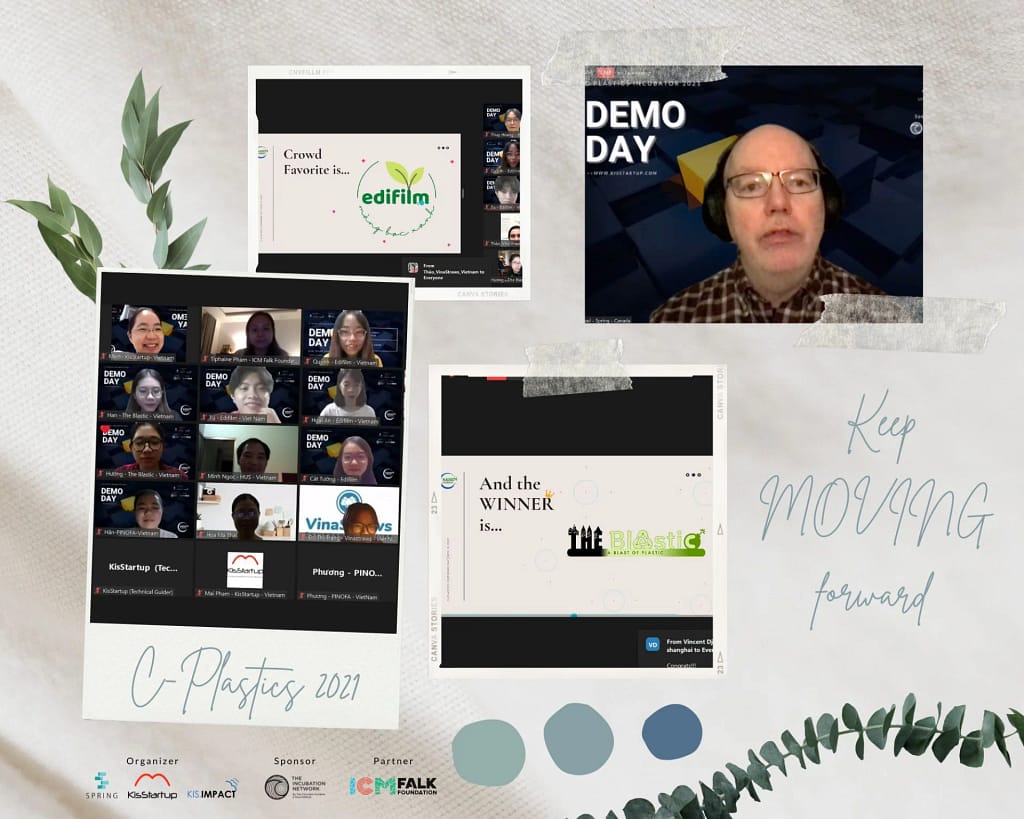 Despite the enthusiasm shown by youths, Vietnam still shows the lowest rate of young social entrepreneurship activities, at 1.4%, compared with 18% in the Philippines (UNDP, 2018). Besides, the ages of 18 and 24 show the lowest level of entrepreneurship activity at an early stage. The main obstacle preventing youth social entrepreneurship to thrive in Vietnam is the lack of balance between financial and social aims at the same time, driving the age of social entrepreneurs upwards (aged 45 to 54 with the highest level of social entrepreneurial activities).
In order to truly support these young innovators while tackling some of the most pressing social issues, ecosystem builders such as KisStartup and ICM Falk are undertaking projects to educate, mentor and coach with daring program design and thought leadership.
Circular innovation & youth entrepreneurship
Given the current nascent ecosystem for youth entrepreneurship support and the challenges that existing impact entrepreneurs are facing to build sustained businesses in Vietnam, ICM Falk believes that a new breed of entrepreneurship is needed for an inclusive growth opportunity for the next generation of entrepreneurs.
Circular innovation, the bridge between circular economy and business innovation, seems to be giving the right answers to the local Vietnamese environmental and social challenges. The movement aims to promote the principles of circularity of eliminating waste and pollution, keeping materials and products in use and regenerating natural resources, with a clear application of out-of-the-box solutions in various sectors. More simply put, circular innovation uses business innovation and circularity principles to solve environmental issues at the root.
By shifting away from the traditional definition of sustainability in businesses (ie., "doing business without negatively impacting the environment, community, or society as a whole" (Harvard Online Business School, 2018), circular innovation will put the principles of circularity at the core of an innovative business model. In other words, circular innovators will make sure that their venture would be removing waste from the design phase throughout the lifecycle of their new product or service.
One of the most promising sectors in Vietnam would be no other than environmental impact entrepreneurship. Currently ranked "among the five countries likely to be most affected by climate change" (Climate Knowledge Portal by the World Bank Group), as well as the top 3 plastic waste polluters in the world (Vnexpress, 2019), Vietnam is at the forefront of climate mitigation and waste reduction initiatives. Moreover, with over 25% of the Vietnamese population being under 25 (Report on Vietnamese Youth 2015-2018, MOHA and UNFPA), solving the pressing environmental issues becomes a clear opportunity field for universities, governments and the private sector to include young innovators and entrepreneurs, especially with an original and unique approach such as circular innovation.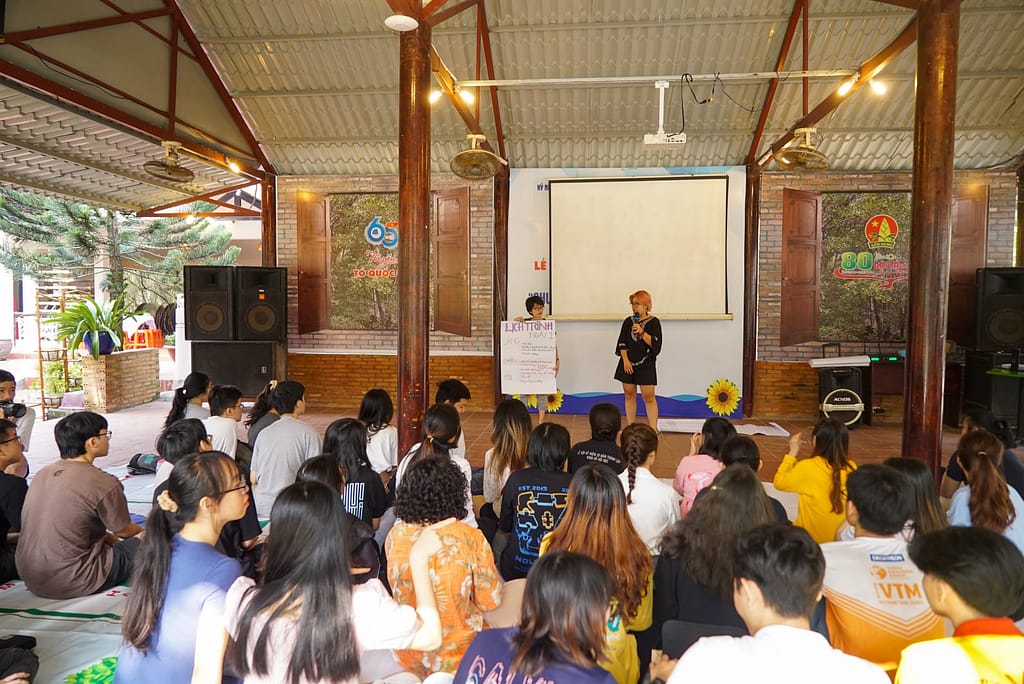 Leveraging the Vietnamese youth's capacities and encouraging more entrepreneurship initiatives will become key to solving environmental issues for future generations through a strategic educational journey of circular innovation:
Research and understand opportunities for circular innovation with grants to universities, research institutes and entrepreneurs.
Translate circular transition opportunities into concise learning opportunities about sustainability, impact entrepreneurship, circular economy and innovation, both in theoretical and practical learnings, for youths through grants and partnerships with universities, nonprofits and ESO.
ICM Falk previously supported the latest Vietnam Climate Leadership Bootcamp for youths where Circular Economy was taught for the first time, in tandem with climate change knowledge and Design Thinking. The initiative allowed for a select number of young Vietnamese students to apply circular innovation thinking into new solutions to solve environmental issues in their communities. For example, Vietnam National University students ideated a simple but effective solution for their campus plastic waste problem: a campus-based refill station.
Support the transition from campus-based ideas to potential new ventures with strategic partnerships and grants with corporates, social entrepreneurs, universities and ESO.
The C-Plastics 2021 program was a clear example of this educational journey. ICM Falk supported Bach Khoa University students from the early prototyping phase throughout the 14-week incubation period with KisImpact and KisStartup. By collaborating with universities' faculty members and an ESO partner, ICM Falk was able to support young circular innovators to bring to life a viable product that complies with the 3 circular economy principles, solving a single-use plastic problem.
A case for supporting circular youth entrepreneurship
The Theory of Change with the ICM Falk's approach is clear:
More investment and collaboration will result in a sound transition to a circular economy by using existing innovation techniques and proven models, in close collaboration with educational institutions to nurture Vietnam's future leaders in preserving and helping our planet thrive.
More specifically, strengthening the support ecosystem for youth entrepreneurship implies more collaboration models between philanthropic funders such as ICM Falk and ESOs such as KisImpact and KisStartup which are nowadays critical to fostering adequate solutions to the current climate and waste crisis.
On the one hand, ESOs in Vietnam have the opportunity to drastically improve the ecosystem by…
Enhancing youth entrepreneurial skills and capabilities through customized training, coaching, and mentoring so that young entrepreneurs can obtain sufficient tools and the adequate mindset to run and operate their ventures.
Connecting young entrepreneurs to quality and relevant network of peers, advisors, businesses, funders, investors and other supporting organizations to drive their companies forward.
On the other hand, funders also have the opportunity to improve the innovation pipeline by…
Supporting innovative youth-focused programs where programs are designed with a long-term support vision for entrepreneurs, embedded with clear success criteria and sound program management (eg., technical advisory, networking opportunities, adequate learning modules, post-program opportunities).
Leading the way with small-but-impactful investments in the form of micro-loans or grants to circular entrepreneurs in order to de-risk future investments and provide essential capital for early-stage ventures
Through our past collaborations and respective programming efforts, KisStartup and ICM Falk are continuing their effort in bolstering youth-focused circular innovation and entrepreneurship in Vietnam.
For KisStartup, youth entrepreneurship support will be an ESO's marathon through trial and error. KisStartup will be uncovering more insights on this topic based on their C-Plastics 2021 Program in Vietnam in an upcoming case study University-based Innovation for Technical Students. A launch webinar in Vietnamese will be held on April 19, 2022 for more exciting program announcements and news (more information here).
At the ICM Falk Foundation, we pledge to continue developing our Circularity Ecosystem that will be inclusive of youths in Vietnam and ASEAN and give them the opportunity to push their ideas further and beyond. We will continue supporting and co-funding youth-targeted projects for Vietnam starting from 2022 through these workstreams:
Developing and piloting open-source and free learning modules on Circular Innovation for Vietnam, by Vietnam
Partner with Universities and youth organizations through our Circularity Ecosystem pillar for educational content, funding support and networking opportunities in youth, circular entrepreneurship
Provide research and operational grants to boost circular youth innovation and entrepreneurship in Vietnam
KisStartup and ICM Falk are open to new partnerships supporting the circular innovation and youth entrepreneurship ecosystem. Please contact us at hello@kisstartup.com or contact@icmfalkfoundation.org for any collaboration opportunity.
---
The Ida C. & Morris Falk Foundation wants to empower Vietnamese students and more particularly engineering students who have great innovative ideas to step up and reach out in order to be equipped with impact business knowledge and be able to adequately address the waste and pollution challenges in their home country.
KisStartup was established in 2015 with the mission to accompany entrepreneurs and startups in enhancing their innovation capacity, supporting them to innovate more effectively and bringing more practical benefits to the community. Our vision is to become a flourishing community of innovators, rooted in Vietnam and acting globally, that creates long lasting impact.
KisImpact – a branch of KisStartup – was established in 2020 to join hands with impact businesses in their growth journey. Our mission is to accompany impact startups and impact-oriented businesses by creating a strong and robust supporting ecosystem for them to grow.
Join us in our mission to support circular entrepreneurship and innovation for a sustainable future. Reach out to us at contact@icmfalkfoundation.org if you want to tackle the waste problem in ASEAN!